Welcome to THE SITE for all kinds of information regarding the 2018 International Youth Forum (IYF) and Spectacular!
For questions contact our mission center SPEC Coordinator, Scott Gelande, at 563-508-1102 or via email.
Click here to download a Frequently Asked Questions info sheet!
Delegation Information: We will be attending both IYF and Spec as part of the Heart of America delegation. Our youth will represent the HOA delegation along with youth from the Lamoni-Heartland and Prairie Bluffs mission centers!
This year registration for IYF and/or Spectacular is to be completed online by visiting the links below
(Refer to Steps 1-3).
Step 1: Click here to register for IYF and/or SPECTACULAR 
Step 2: Click here to submit HOA SPEC delegation forms

Step 3: Click here to pay IYF and/or SPEC fees
Payment Information: Fees are being collected online via the Lamoni-Heartland Mission Center website (Refer to Step 3 above) for both IYF ($265/youth) and SPEC ($430/youth).
Fees are due by June 5th!
When paying your fees via the Lamoni-Heartland Mission Center website, please specify:
a) Other Amount: ($265 for IYF, $430 for SPEC, or partial payment)
b) Write a Note (Optional): Enter whether paying for IYF, SPEC, or both and, if paying partial fee due to congregational support, include that information here as well.
Click on photo below to enlarge to see the categories referred to in a & b.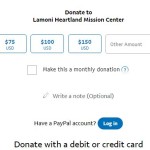 If you need to pay via check, please submit your fees to:
Jeannine Ward, HOA Delegation Leader
709 Valley West Drive
West Des Moines IA 50265
Please include your youth's name and IYF and/or SPEC on the memo line
Make checks payable to: Lamoni-Heartland Mission Center
International Youth Forum: July 19-20, 2018
International Youth Forum is hosted once every four years and provides a meaningful Temple experience including worship, spiritual education, small-group experiences, plus an opportunity to engage with people from other cultures. The IYF experience will include worship, small groups, a new element called International Games, and a campfire.

For grades 9-12 (or ages 15-19)
Begins: Thursday, July 19th @ 9:30 AM
Ends: Friday, July 20th @ 6:00 PM
Location: Independence, Missouri
Cost: $265/per person (Includes IYF fee, hotel for 2 nights, shirt and travel expenses)
Fees due by June 5th
Delegation: Heart of America

Registration Deadline: April 18th
Spectacular: July 21-28, 2018
Spectacular is a camp dedicated to creating a safe, Christ-centered community where teens can discover God, their inherent worth, and share their giftedness. During Spectacular approximately 1,100 campers and their leaders gather at Graceland University in Lamoni, Iowa for the largest annual gathering of youth in Community of Christ. All campers have the opportunity to participate in leadership and discipleship development, diverse worship, and expression of arts, music, and sports.
During the week campers can look forward to sharing in all avenues of the SPEC experience: service projects, communication workshops, basketball, musical instruction, table tennis, stage production, worship, delegation devotions, volleyball, tie-dying, cotton candy, discussions about dating and relationships, learning more about our Creator, soccer, and much, much more.
For grades 9-12 (or ages 15-19)
Begins: Saturday, July 21st
Ends: Saturday, July 28th
Location: Graceland University, Lamoni, IA
Cost: $430/per person
($50 discount for siblings and first-time campers that are not 9th graders)
Fees due by June 5th
Delegation: Heart of America

Registration Deadline: May 15th
ITEMS TO BRING:
Clothing (lots of shorts, tops, socks, tennis shoes, etc)
Laundry detergent
Alarm clock
Bedding
Toiletries
Suntan lotion
Towels
Fan
Cameras
Sports equipment labeled with name
Instruments and music
Cash to purchase snacks at the Swarm or Bookstore
Scriptures
IYF Study Guide